Jim Allister: £4.5m spent on Northern Ireland courts that may close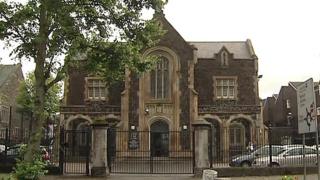 Four and a half million pounds has been spent upgrading courthouses the Justice Minister now plans to close, TUV leader Jim Allister has said.
Mr Allister said details of the costs were provided in an answer to an assembly question to Justice Minister David Ford.
It detailed expenditure per court from 1 April 2010 to 31 December 2014.
The highest figure was for Ballymena courthouse, which had £1,675,078.26 spent on refurbishment.
The eight courthouses earmarked for closure are: Armagh, Ballymena, Enniskillen, Limavady, Lisburn, Magherafelt, Newtownards and Strabane.
The expenditure was:
Armagh Court Office £508,535.66
Ballymena Court Office £1,675,078.26
Enniskillen Court Office £307,240.22
Limavady Court Office £163,110.67
Lisburn Court Office £567,793.03
Magherafelt Court Office £198,399.93
Newtownards Court Office £906,488.81
Strabane Court Office £247,308.38
The figures include refurbishment, maintenance and security costs.
"In an answer to an assembly question David Ford has admitted to me that since coming to office he spent £4.5m upgrading the eight courthouses which he now foolishly wants to close," Mr Allister said.
"So, now we know that not only has the justice minister defied the advice of the lord chief justice, but he squandered millions on courthouses to now abandon them."
He said the worst case was in Ballymena with almost £1.7m spent at the same time as Mr Ford was talking about cutting legal aid.
A spokesman for the Department of Justice said no decisions had been taken on the future of any of the courthouses, as the consultation period runs until 30 April.
"In broad terms, the rationalisation proposals seek to make greater use of the more modern court buildings within the court estate, which offer a better standard of facilities and accommodation for those attending court, including victims and witnesses," he said.
"As part of our obligation to provide security for and maintain the court buildings, primarily for health and safety reasons, it has been necessary to expend public funds when required.
"In addition four of the eight have listed status and the department is committed to maintaining those listed buildings which are an important part of our history and heritage and will ensure that appropriate arrangements are made in the event that a vacated building cannot be sold or used for an alternative purpose."
Last month, Mr Ford said that the financial challenges facing the Courts and Tribunals Service meant that continuing to operate 20 courthouses in Northern Ireland was "no longer sustainable".
"The closure of up to eight courthouses is one of a number of measures aimed at strategically positioning the Courts and Tribunals Service for the challenges it will face over the next three to five years," he said.