Maghera rape accused 'tried to bribe woman'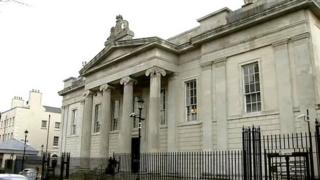 A father of five charged with raping a woman later returned to her home and offered her £200 to withdraw her complaint, a court has been told.
Appearing at Londonderry Magistrates Court was Stephen Paul McNally, 38, from Brackaghreilly Road in Maghera.
He is accused of raping the woman on Sunday, offering her a bribe on Thursday and driving without insurance and while disqualified.
A defence solicitor said the issue was a question of consent.
A police officer said the defendant allegedly committed the act of attempting to pervert the course of justice because he did not want his wife to find out about the rape allegations against him.
A judge released the defendant on his own bail of £1,000 together with a cash surety of £2,500 to appear before Magherafelt Magistrates Court on 11 March.
As part of his bail conditions the defendant is to be electronically tagged and is banned from entering within a 30 mile an hour zone around Maghera.
He was also ordered not to contact the complainant and not to consume alcohol.