North Belfast police foil 'arranged fight' in Alexandra Park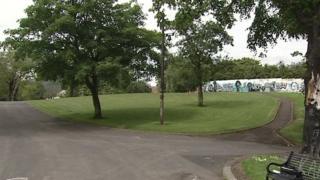 Police have said they have disrupted an attempt to arrange a fight between more than 40 youths in north Belfast on Friday night.
They said neighbourhood police teams from the Tiger's Bay and New Lodge areas stopped the fight taking place in Alexandra Park.
It involved both boys and girls. Police said names were recorded for follow-up action.
Alcohol being carried in rucksacks was seized.
"Again we received excellent community support but we will enforce the law to bring offenders in front of the courts," police said on their Facebook page.