Newtownbutler wedding shooting: Funeral of Barney McGinley is held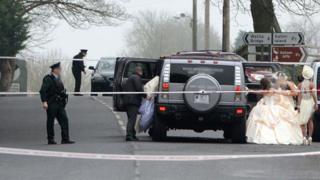 The funeral of a man shot and killed at a wedding in County Fermanagh last Wednesday has taken place.
Barney McGinley, 63, who was a member of the traveller community, was shot in front of his wife and grandchildren as the bride entered a Catholic church in Newtownbutler on Wednesday.
His funeral was held in Athlone, County Westmeath, on Monday.
Fr Turlough Baxter told mourners at St Mary's Church that "violence can never be the answer".
"On a day that was to be a joyful family occasion, others chose to end the goodness of Barney's life and leave a family in such grief and loss," he said.
"It takes such a short time to open wounds in others that can take a life time to heal.
"Violence can never be the answer, because all that it does is foster more hurt and violence and delays the day of justice.
"Even though Barney has died, for all you who loved him he will live on in the good things he has done, because goodness is always in the end stronger than the evil that other may do to us."
Police investigating the killing have said they believe they know who carried out the attack on Mr McGinley.
Last week, Det Ch Insp Una Jennings said: "I would say to those involved, you are postponing the inevitable, come forward and present yourselves to the police service either north or south of the border."
Another man, who is in his 30s, was also shot. His injuries are not thought to be life-threatening.