RVH Belfast: Police investigate 'unexplained death' of patient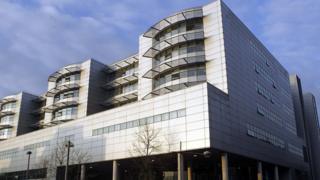 The "unexplained death" of an elderly patient at Belfast's Royal Victoria Hospital (RVH) is being investigated by the police and the health authorities.
Geoffrey Foot, who was in his 70s, died at the hospital on 3 February.
The Belfast Health Trust, which runs the RVH, told the Irish News the case was being investigated as a "serious adverse incident".
Det Sgt Andrew Madden said police were liaising with the trust and the Coroner's Office over the case.
The officer said inquiries "are currently ongoing to establish the circumstances surrounding this man's death".
The Irish News reported that concerns have been raised about the treatment Mr Foot received.
In a statement, a spokeswoman said: "Belfast Trust cannot discuss individual patients.
"However, we are currently investigating a serious adverse incident (SAI) in line with Health and Social Care Board procedures for the reporting and follow-up of SAIs."