Ulster Bank employee James Stewart stole £20K from customers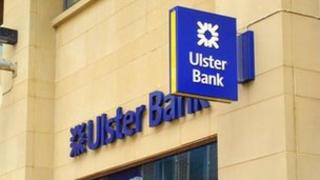 A former Ulster Bank employee has been jailed after being found guilty of stealing almost £20,000 from "vulnerable" customers' accounts.
James Stewart, 29, of Hillhead Road in Ballyclare, County Antrim, stole £19,820 over a 22-month period while working at the Glengormley branch.
His three victims included a man living in supported accommodation and two pensioners.
Antrim Crown Court heard Stewart had shown an "appalling abuse of trust".
The offences came to light when a sister of the man living in supported accommodation raised concerns about the activity on his account.
Stewart made 57 unauthorised withdrawals from that man's account; 29 from the account of an 84-year-old man and one from a 68-year-old woman's account, between February 2011 and December 2012.
'Ashamed'
The court was told their accounts were targeted because they were not regularly managed.
A prosecuting lawyer said: "He simply shut his mind that there would be a day of reckoning."
A defence lawyer for Stewart said he had displayed "very obvious shame and remorse".
He also said he came from a good family and had repaid the stolen money in full.
The court heard the offences happened as a result of an inability by his client to cope with stress at work and home, including the death of his father some years before.
"He had financial difficulties and he turned to a course of action he regrets, he is ashamed by it," he said.
'Degree of cunning'
He added that Stewart had used the money "simply just to meet day-to-day expenses".
Stewart was sentenced to four months in prison, with a further eight months on supervised licence parole.
The judge told the court Stewart had used a "degree of cunning" to achieve his ends, and said he doubted "whether there are many working people who don't feel under similar stress".
"Most don't respond by stealing from vulnerable clients," he added.