Ulster Museum exhibition: Science set with radioactive materials was child's play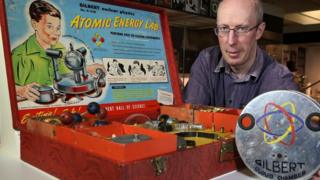 A science set that allowed children to play with radioactive materials at home has been put on display at a museum in Northern Ireland.
The Gilbert Atomic Energy Lab, which was available between 1951 and 1952, can be viewed at the Elements exhibition at the Ulster Museum in Belfast.
It came with four types of uranium ore and three different radiation sources (alpha, beta and gamma).
Dr Mike Simms, National Museums Northern Ireland's Curator of Palaeontology, said that obtaining the set was a coup for the exhibition, which opened last year.
"I came across the opportunity to purchase this fabulous and unusual set and am delighted it will now be displayed in the exhibition," he said.
"I think visitors will find it amazing and amusing that this set allowed budding young scientists to measure radioactivity of uranium in the comfort of their own homes.
"Perhaps it wouldn't pass today's health and safety standards but it is a perfect fit for the Elements exhibition.
"And, on the eve of the Northern Ireland Science Festival, timing for this new addition couldn't be better."