Northern Ireland civil service redundancy scheme to start soon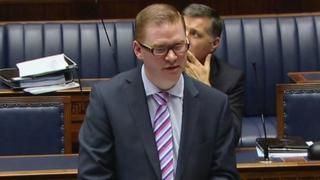 Finance Minister Simon Hamilton has said the executive plans to launch a voluntary exit scheme for civil servants on 2 March.
Mr Hamilton told the assembly that civil servants selected for voluntary redundancy would leave between 30 September this year and 31 March 2016.
The minister told MLAs that the anticipated savings would be about £26m this year and £88m per year thereafter.
He said this was based on departments indicating 2,410 posts would be closed.
The scheme for civil servants, which will take place over the 2015/16 financial year, is part of a four-year public sector voluntary exit scheme.
In answer to a question from Ulster Unionist MLA Sandra Overend, Mr Hamilton acknowledged that there was a "degree of risk" and one risk was that not enough people would volunteer.
However, he said that "anecdotal evidence" suggested there would be no such problem.