Derry bomb alert: Object found in Currynierin estate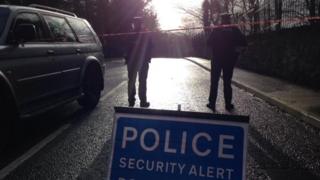 Bomb disposal officers are examining a suspicious object in Londonderry found at a housing estate in the Waterside.
Police began searching the Currynierin estate on Monday, after they received phone calls claiming an explosive device had been left in a laneway.
Several homes remain evacuated and some roads remain closed.
A panel in the security fence between Ardmore Road and Currynierin has been removed to allow pedestrian movement to and from the estate.
However, the alert is still ongoing.
Deputy First Minister Martin McGuinness said those behind the bomb scare need to stop their "nonsensical activity".
"The only time I hear about British soldiers being on our streets, through the bomb disposal people, is when the dissidents bring them onto the streets," the deputy first minister said.
"That needs to send a very clear message to everybody that this sort of nonsensical activity needs to stop.
"They need to recognise that the vast majority of our people want peace, they want jobs for their young people, normal lives and they want to live in a society that is free from violence."
'Misery'
East Londonderry DUP MP Gregory Campbell said it was another example for army bomb disposal officers to be based in the north west.
"We all know the threat which exists in the north west area through those who want to repeat the failed tactics of others, bringing misery to the community," he said.
"Every time there is an alert in somewhere like Londonderry, bomb disposal officers have to be dispatched from the east of the province with up to a two-hour travel time.
"That is why I am repeating the call for an Army bomb disposal base in the north west, which could deal with incidents across a wide geographical area, particularly along the border."
'Panic attacks'
One of those who stayed overnight at the YMCA, 65-year-old Dennis McLaughlin, said his health has been affected.
"It's bad, I can't get my medication. I've COPD (Chronic obstructive pulmonary disease) and I take panic attacks but what can you do.
"I hope it ends soon."
Mary Martin, 74, said that although staff had been very kind, she was anxious to get home.
"It's upsetting everybody and we're still waiting now and don't know when we'll get back. It could be another day or so, but at least nobody's been hurt.
"It's senseless, it shouldn't be happening in this day and age."
Ch Insp Tony Callaghan said they were treating the claims "with utmost seriousness".
"Our priority is to keep people safe, and, bearing in mind the background of other incidents in the city in recent months, we cannot be specific on how long this situation will persist."