Walled City Tattoo: Londonderry culture event under threat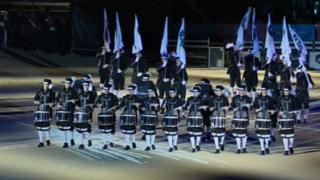 The organisers of the Walled City Tattoo in Derry have said the future of the event is in doubt because of a lack of funding.
The event was first staged as part of the city of culture celebrations in 2013 and attracted around 30,000 people in the last two years.
A mixture of Scottish and Irish culture, the Tattoo included local and international performers.
Director James Kee said they had hoped to make it an annual event.
"Obviously the city of culture funding was pretty flush to begin with and in 2014 we had a cocktail of funders, the main contributor being the department of culture, arts and leisure.
"As we all listen to the news these days, budget talks are ongoing in Stormont and that has a reflection on what's happening.
"We did look at sustainability but with a show like that it would take at least four or five years just to develop and generate a core audience."
Mr Kee said they are looking at the possibility of downsizing the event and hosting it indoors.
"We're hoping to visit the new Foyle arena next week but the show itself already has a couple of acts booked so we could be the first big event to be held in the arena.
"We're sitting at 50/50 at the minute and hopefully when budgets are sorted out then we can start getting a few commitments made."
In a statement the Walled City Tattoo organisers said: "We are disappointed to announce that The Walled City Tattoo will not take place this summer in its current outdoor format due to government budget restraints.
"However plans are well underway for a new format of Tattoo later in the year in one of Derry-Londonderry's brand new venues."