Orange Order says it uses land funds to 'counter republicans' illegal proceeds'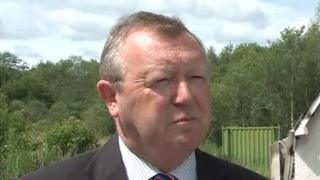 Several months ago, I met a man in rural County Tyrone with an interesting story to tell about a property transaction he was involved with.
We can't reveal his real name, because he says that his story is about an issue that is still too sensitive to talk about openly.
The issue is land; who owns it, who can buy it, and the role that religion and politics continues to play when it comes to property in rural parts of Ulster.
In Tuesday night's BBC NI's Spotlight programme, we refer to our source as Danny.
A number of years ago, Danny and his wife were looking for a farm to buy.
When one came onto the market that they liked, Danny approached a local estate agent to enquire about buying it. But even as he did so, he knew there might be a problem.
"I went into the estate agent and my first question was can this farm be sold to anyone? Because I am Catholic, and I knew that the farm had previously belonged to a Protestant person."
As a local himself, Danny was aware of a practice known as "colour-coding", in which one side of the community would be prevented from buying land which was being sold by someone from the other side. Danny says that initially the estate agent told him that in this case, there would be no problem.
Cheque book
But when Danny said that he had the resources to buy the property that very day, the estate agent's attitude quickly changed:
"He got flustered and he said 'hold on, hold on to your money for a minute'.
He said 'I need to go back to the family and talk to them'.
"I had to put my cheque book back in my pocket and I left his office and he said, 'look, I will get back to you in a day or two'. And the next thing I noticed the property was off the market, out of his window, and not in the paper. "
Danny cannot prove that he was the victim of "colour-coding", but he believes that he was.
The very nature of the practice means that in the vast majority of cases, the victims of bias in land transactions will never be able to know for sure.
So how widespread is the issue of religious or political bias when it comes to land sales?
Spotlight has spoken to people in the property industry in Northern Ireland from both sides of the community, from solicitors to estate agents to farmers, who say that it remains widespread to this day.
And at times, it is not just long-established tribal custom that keeps land in the "right" hands.
During the course of our investigation, we also heard that when it comes to land sales in rural parts of Northern Ireland, the Orange Order can sometimes have a role to play.
For years, the Orange Order has been accused of controlling secretive "land funds" which have been used by individual Orange Lodges to protect Protestant land in their communities.
And when we met the Orange Order to discuss the issue, Grand Secretary Drew Nelson both admitted to the existence of such funds, and defended their use.
"There are some funds in existence which do that type of work and that is something that strategically we regard as one of the roles of the institution, to help Protestant communities that are in distress, particularly around border areas, or areas where Protestants are in the minority."
'Illegal diesel'
When I put it to Mr Nelson that the existence of such funds was in danger of artificially skewing the property market in Northern Ireland, he offered a rationale which some may find surprising: that vast proceeds of illegal diesel smuggling were flooding into the coffers of republicans in rural areas, and that this was itself resulting in an unfair playing field when it came to the purchase of land.
In that context, the use of land funds might be seen to be a legitimate tactic in a proxy battle over the ownership of the land.
It is one of many revealing admissions in a frank and at times startling interview, and it draws back the curtain on a truth only occasionally acknowledged; that in rural Northern Ireland, the politics of the land is as old as the hills.
This episode of Spotlight will be broadcast on BBC One Northern Ireland at 22:40 GMT on Wednesday, 18 February and is also available to watch on BBC iPlayer.