Peter Robinson: DUP 'did not negotiate parades' during talks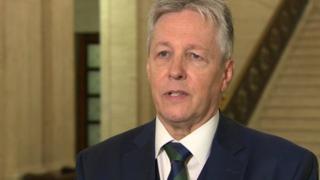 Peter Robinson has insisted the DUP did not negotiate the parading issue during the Stormont House Agreement talks.
The five executive parties have published the Stormont Castle Agreement, which was reached four days before the Stormont House Agreement.
The Stormont Castle Agreement drew proposals from the five parties, which they put to the the two governments.
It contains a proposal for two new bodies that would replace the Parades Commission.
But this was not in the Stormont House Agreement, which the parties struck with the British and Irish governments on 23 December.
'Double dealing'
Mr Robinson said: "The civil servants put together the costs of potentially all the new elements that might arise out of the agreement.
"Every section of the Stormont House Agreement commences with the words 'the participants agree' with one exception. When it comes to parading, it is a proposal from the government.
"There were no negotiations on parading, that's why the government had to put forward their own proposal."
The UUP and the DUP had said they would not negotiate on parades while a parading dispute in north Belfast remained unresolved.
The first minister also dismissed as "silly" claims by the Traditional Unionist Voice (TUV) leader Jim Allister that the Stormont Castle Agreement proved how the two bigger unionist parties had been "double dealing" on parading.
Mr Allister said: "Given that the public Stormont House Agreement contained a detailed section on parading and that we now know that the secret Stormont Castle Agreement even had worked out a budget for the rebranded Parades Commission, no one can now seriously argue that the unionist parties held to their pledge not to negotiate on parading until the north Belfast situation was resolved."
Last month, Mr Robinson accused the Secretary of State Theresa Villiers of "breaking her word" over parading after she said she would not set up a panel to examine the north Belfast parades dispute.