Cerberus: US investment fund in move against developer John Miskelly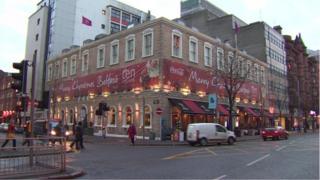 The US investment fund Cerberus has made a major move against the developer John Miskelly, appointing receivers to several of his Belfast properties.
It took control of loans made to some of his firms when it bought Northern Ireland's Nama loan portfolio.
The properties in receivership include office blocks and development sites.
In January, Cerberus appointed administrators to Ten Square hotel in Belfast, that was also controlled by Mr Miskelly.
The hotel is continuing to trade while the business is reviewed.
The properties in receivership were all held by a firm called Applecroft Investments. They are:
Norwich Union House office block on Fountain Street in Belfast
Londonderry House office block on Chichester Street in Belfast
A development site on Queen Street in Belfast which has planning permission for a budget hotel
A property at East Bridge Street in Belfast, understood to be a development site
A property at Coolmillish Road in Markethill, County Armagh
St Patrick's Park in Newcastle, County Down
The most recent accounts for Applecroft Investments showed it owes its creditors more than £80m, while its assets are valued at just £36m.
Cerberus has previously said it has "a long and demonstrated history of treating our borrowers consistently and fairly".
It added that: "Not every borrower will like the outcome.
"That's to be expected given these are loans in default. But we will be consistent in our approach, focused on a constructive resolution and always respectful of the market."