Royal Mail unveil NI Lunar New Year limited edition stamps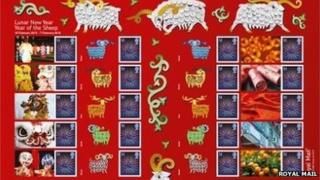 Royal Mail has released a limited edition stamp sheet at post offices in five UK cities including Belfast to mark the Lunar New Year, also known as Chinese New Year.
The sheet contains images of past celebrations in Belfast, Cambridge, Sheffield, Cardiff and Edinburgh.
It features 20 first class firework stamps alongside pictures of Chinese lanterns and firecrackers.
The year of the sheep begins on 19 February.
Royal Mail spokesperson Philip Parker said the stamps were "visually striking" and hoped that they would "make a great contribution to the 2015 celebrations".
People in Belfast marked the start of the Chinese New Year on Sunday, with a cultural festival at the Ulster Hall.