David Ford questioned over abortion laws consultation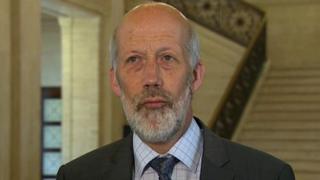 David Ford has said he believes no professional medical organisations have raised concerns on doctors' ability to diagnose lethal foetal abnormalities.
The justice minister was taking questions from MLAs in the assembly on Tuesday.
He was asked about his consultation on proposed amendments to abortion law.
He has recommended the law should be changed to allow terminations when a baby has a condition meaning it will die in the womb or shortly after birth.
The minister has made no recommendation on another proposal, that abortions should be permitted when the pregnancy has come about as a result of sexual crime.
In response to a question by the Green MLA Steven Agnew about the consultation responses, Mr Ford said: "My understanding at this stage is that the main professional medical bodies have not raised any issue about the ability of clinicians to diagnose accurately foetal conditions which are lethal."
Currently, a termination is only legal in Northern Ireland if a woman's life is at risk or if there is a risk of permanent and serious damage to her mental or physical health.
At the end of January, SDLP leader Alasdair McDonnell, whose party opposes changes to the abortion laws, said: "Nobody can predict that a foetus is not viable, and that's the problem, and as a GP, I'm fully aware.
"I have seen situations where termination or an abortion was recommended to somebody because a foetus that had this, that or the other thing, and that foetus grew up to be a perfectly normal child."
Mr Ford accused him of talking "nonsense".