Stephen Brimstone: DSD deadline over DUP adviser report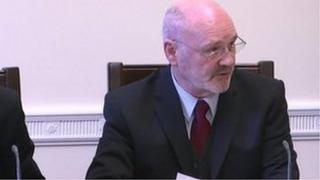 The social development minister faces a deadline later to hand over a report about the conduct of a special adviser to a Stormont committee.
The assembly's social development committee has been investigating allegations of political interference in the Housing Executive.
The allegations were made in a 2013 BBC Spotlight programme about the DUP special adviser Stephen Brimstone.
Mervyn Storey has until 17:00 GMT to give the committee the report.
The programme claimed Mr Brimstone pressured DUP councillor Jenny Palmer to change her vote in a Housing Executive board meeting.
Officials in the civil service have carried out an internal review into Mr Brimstone's conduct, which has not been published.
At a previous session, the Department of Social Development (DSD) committee chair Alex Maskey said that unless the report was produced by 12 Februrary: "We're for the courts".
The committee met in closed session last week to consider correspondence from Mr Storey.
They agreed to extend the deadline for the minister until 17:00 GMT on Wednesday, 18 February.
A committee spokesperson said: "Subject to the minister's response, the committee will consider all options to conclude this matter to its satisfaction."