Northern Ireland house sales are 'highest in seven years'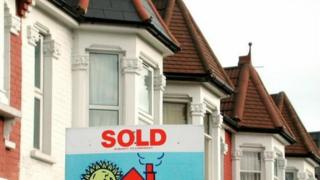 Northern Ireland has seen the highest number of house sales in seven years.
According to official figures, 2014 saw 20,200 transactions.
Prices rose 8% across the year, but are still 1% below what they were at the beginning of 2005.
Finance minister Simon Hamilton said the data was "encouraging" - houses are more affordable and the market is confident.
The residential property price index is the most comprehensive survey of the market.
It includes analysis of all sales using stamp duty information recorded by Revenue and Customs.
The market peaked in 2007, when prices were more than nine times the median salary.
Currently they are four-and-a-half times typical pay.
'Market activity'
Mr Hamilton said: "Today's report shows that the relationship between sale prices and annual gross earnings continues to be well balanced.
"Northern Ireland, with some increases in prices and greater market activity, is demonstrating an affordable and confident market."
The figures put the standardised property price in Northern Ireland at £109,342.
The west and south-west has witnessed strongest price growth in 2014 of 10%.
In Belfast and its surrounding area it was 9%.