Northern Ireland unemployment continuing to fall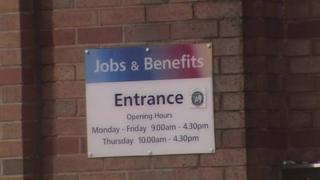 The number of people claiming unemployment benefit in Northern Ireland fell by 1700 in January and now stands at just over 48,000.
That was the biggest monthly fall since the drop of 2,200 in May 1999.
Over the last 12 months the number on unemployment benefits has fallen by more than 10,000.
The second measure of joblessness, the unemployment rate, now stands at 5.7% the same as the UK average.
However, the figures also show that the number of people classified as economically inactive in Northern Ireland is continuing to increase.
Economically inactive refers to working age people who are classed as neither in work nor seeking work.
That includes the long-term sick, students and those caring for relatives.
The official figures estimate that the number of economically inactive people of working age in the period October - December 2014 was 577,000.
This figure is up 11,000 over the quarter and up 14,000 over the year.
The Northern Ireland economic inactivity rate for those aged 16-64 is 28%.
This is significantly higher than the UK average rate (22.3%) and is the highest of the 12 UK regions.
The Northern Ireland Executive is working on a strategy to tackle economic inactivity that aims to get 30,000 more people into work over the next 10 years.
The Enterprise Minister Arlene Foster said the decrease in the unemployment rate is encouraging.
"The number of claimants has fallen in each of the last 25 months, which is the most sustained decrease since the series began," she added.