DRD official denies 'negligence' over fatal crash barrier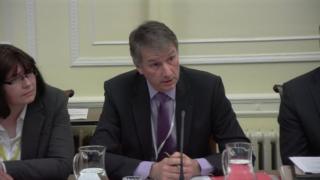 A senior official has denied claims that the Department for Regional Development (DRD) was negligent in how it dealt with safety measures at a fatal accident black spot.
Teenager Enda Dolan died after he was knocked down on the Malone Road in south Belfast last October.
A safety barrier had been removed three weeks before the 18-year-old died.
Kevin Monaghan said he believed DRD had carried out a risk assessment in accordance with prevailing standards.
At a DRD committee meeting on Wednesday, UKIP MLA David McNarry asked Mr Monaghan whether, on behalf of the department, he would "admit negligence for the tragic death of this young man".
"No, because I don't believe the department was negligent," said Mr Monaghan.
"I believe they carried out the initial survey in accordance with the prevailing standards, the department carried out the risk assessment in accordance with prevailing standards and I believe that pointed to a low priority for replacement."
He told the committee an assessment had found the barrier was "defective and needed to be removed" as it was around four inches too low and its wooden posts were rotten.
"The barrier wouldn't have performed as it was designed, it probably would have collapsed," he added.
There had been calls from Mr Dolan's family, politicians and students at Queen's University, where the County Tyrone teenager was studying, for the barrier to be replaced following the accident.
Last week, DRD announced that it would reinstate safety measures on the Malone Road.
Asked by committee chair Trevor Clarke why the barrier had been replaced, Mr Monaghan said the Regional Development Minister Danny Kennedy had requested its replacement after meeting with the Dolan family "to address public confidence issues".
He said the minister had ordered an independent evaluation that would "establish the facts around the incident" including circumstances around the vehicle, its speed, the location and road hazards.