Northern Ireland libraries: Board 'regrets' cuts in opening hours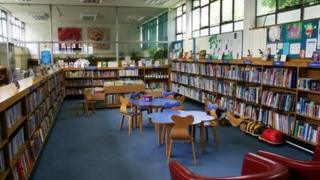 The libraries board has said it has agreed "reluctantly" to look at library opening hours in response to plans to cut £2.4m from its budget.
Irene Knox, chief executive of Libraries NI, said the draft budget called for savings of 7.5%.
"No libraries will close as a result of these savings," she said.
A consultation has begun on changes that would mean shorter opening hours for 52 branches and a reduction to its book-buying and maintenance budgets.
Ms Knox said: "Libraries NI was obliged to reduce opening hours temporarily in November 2014 at short notice when it was required to make in-year savings.
"We now need to regularise opening hours to ensure equity.
"The temporary opening hours will continue to apply until the new hours are introduced in the autumn."
The proposals would cut the opening hours in 52 branches, divided into eight bands according to how well used they are:
The busiest branches would open for the longest time, at 54 hours a week
Cookstown and Portrush libraries would lose 12 hours
Ballymena Central Library would be cut by seven hours
Antrim would lose four and a half hours
While the hours in 39 branches would remain unchanged, five would gain extra hours - for example, the Woodstock branch in Belfast would open for an additional 10 hours a week, while Carryduff and Moira would gain seven hours
Ms Knox said the reduction in hours was "very difficult" for both customers and staff. She said the board "deeply regrets" having to cut back opening hours.
She invited the public to take part in a consultation process over the proposed revised hours. That process will be open until 17 April.
Survey questionnaires will be available in libraries and online.