Denis Donaldson: Family 'disappointed' at 15th inquest delay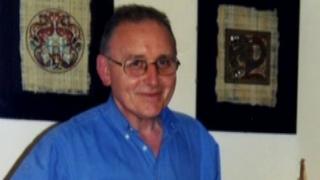 The family of Denis Donaldson have said they are disappointed that an inquest into his murder has been adjourned for the fifteenth time.
The Sinn Féin official was shot dead at a remote cottage near Glenties in County Donegal in April 2006.
He fled there after the fact that he had been an informer for the police and MI5 for 20 years was exposed.
On Wednesday, his family said their interests were not being "respected or protected" by Irish police.
They said that it was "with deepest regret" that they heard that the Irish state had applied to adjourn the inquest again.
The statement released by the family's solicitors said that gardaí said the delay was "due to their continuing investigations".
They said that Irish police were continuing to withhold a copy of Mr Donaldson's diary which he had been writing shortly before his death.