Brain sex to Zombies - NI science festival out to get reaction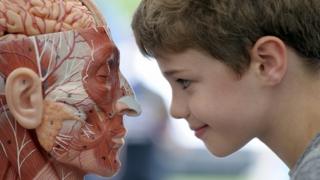 Mystical, marvellous and magical - they're on a mission to sell the kind of science that gets a real reaction.
Northern Ireland's first ever science festival begins on Thursday with a programme of events designed to entice, fascinate and celebrate.
From brain sex to zombies, it's about celebrating the thrills of science, technology, engineering and maths.
Events range from the menu of the future - more insects, to tickle your taste buds please?
Brain sex is an adult show about how men and women differ - prepare for live experiments on the audience.
Zombie science is a spoof lecture from the Zombie Institute for Theoretical Studies that lifts the lid on the zombie skull and peers into its brain.
For those who fancy their own brain cells tickled, the Mensa Magnificent quiz should prove just the answer.
The world's largest science lesson invites 10 to 12-year-olds to take part in an attempt to break into the Guinness Book of World Records.
There will be star gazing, a handmade electronic music night and the BBC Make it Digital event over three days between 26 and 28 February.
Games inspired by Doctor Who and Sherlock will be available and there is a chance to explore the mysterious world of computer programming.
What's Going On In His Head features James Piercy who battled severe head injuries after a freak car accident. This is his moving and witty story that tells the science behind his recovery.
The Science Festival runs from 19 February to 1 March.
Employment and Learning Minister Stephen Farry said the skills showcased would prove "key drivers behind Northern Ireland's economy in the 21st century".
"It is vital that we enthuse our young people to study and pursue a career in Science, Technology, Engineering and Mathematics (STEM) in Northern Ireland," he said.
"This is another innovative collaboration between government, employers, academics and our local STEM representatives."
Details of events across Northern Ireland are available on the NI Science Festival website.