NI Chamber of Commerce in corporation tax 'rate and date' call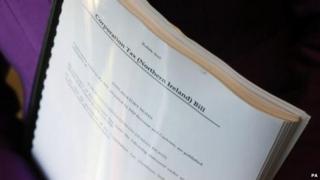 Northern Ireland may lose out on investment unless politicians quickly agree what rate of corporation tax to introduce, a business group has warned.
The Chamber of Commerce said 'consensus' needed to be reached between the DUP and Sinn Féin.
Chief executive Ann McGregor said: "The NI Executive must agree a 'rate and date' as soon as possible - or risk losing investment opportunities."
The DUP and its economy minister Arlene Foster favour a 10% rate.
However, Sinn Féin thinks it should be 12.5% - the same as in the Republic of Ireland.
White House invitations
The party has also called for a better deal for Northern Ireland in respect of additional tax revenues flowing to the Treasury in the event of thousands of new jobs being created.
Legislation to devolve control of the rate to Stormont is working its way through Westminster and should be passed by the end of March.
It states that a lower rate can be introduced from April 2017.
Invest NI is keen for Stormont to signal its intentions early, so that it can began global promotional activity.
Several business leaders from Northern Ireland have been invited to the White House for St Patrick's Day celebrations next month.
"The visit provides a perfect platform to sell Northern Ireland," said Ms McGregor.
She said that to take advantage of this, it was important for politicians to agree on what rate should be set.