Supreme Court to hear loyalist flag protest handling appeal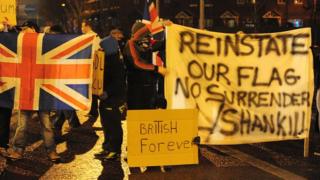 An east Belfast resident has been allowed to take his legal complaint about the police's handling of loyalist flag protests to the UK Supreme Court.
Last April, a High Court judge ruled that the police had wrongly facilitated illegal and sometimes violent loyalist flag protest marches.
However, the police won its appeal against the ruling.
The resident has now been given leave to appeal against this verdict to the Supreme Court in London.
Ruling
The case is related to weekly processions from east Belfast into the city centre during December 2012 and January 2013.
Demonstrations were staged in response to the decision to restrict the flying of the union flag at Belfast City Hall to designated days only. It had previously been flown all year round.
A man, identified only as DB, who lives in the nationalist Short Strand area, went to court claiming his home had been attacked by protesters and that the PSNI had failed to provide assurances that it would prevent any future parade past the area.
He also claimed his human rights to privacy and family life under European law had been breached.
In a previous ruling, the High Court judge ruled that the commander in charge of the operation around the protests wrongly believed he was hampered by law from stopping the parades and arresting participants.
However, lawyers for the PSNI successfully appealed against the findings, claiming they were flawed and unfair.
Following the ruling by the Court of Appeal in Belfast on Wednesday, the case can now be heard at the Supreme Court, the final court of appeal in the UK for civil cases.