Zero-hours contracts will not be banned in Northern Ireland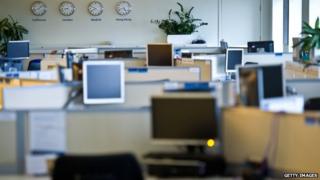 Zero-hours contracts will not be banned in Northern Ireland, following a review of their use by Employment Minister Stephen Farry.
Such contracts allow employers to hire staff with no guarantee of work.
However, in legislation to be tabled by June, Dr Farry proposes to outlaw contracts that contain exclusivity clauses.
These prevent people from working for other employers.
'Flexibility'
Based on UK-wide research, Dr Farry previously suggested that 28,000 people may be on zero-hours contracts in Northern Ireland.
A public consultation on the issue took place late last year, and Dr Farry is now discussing the issue with his colleagues in the Northern Ireland Executive.
In a paper seen by Stormont's Employment and Learning Committee, Dr Farry says that "an outright ban would have a disproportionate impact upon flexibility within the economy".
He also states that such a ban could "remove some employment opportunities".
Dr Farry told BBC NI's Good Morning Ulster on Thursday that the proposals for Northern Ireland went further than the rest of the UK.
"We are proposing a number of different measures of regulation of zero hour contracts that don't presently exist, so we do realise it is an area of public concern," he said.
"After a six-month period we are going to propose that the employer has to provide an objective reason as to why a person should not be moved from a zero hours contract to a more formalised contract with a guaranteed number of hours.
"So we are going to place a burden on employers at that point to make the case why someone shouldn't be given the full contract some other employees would be on."
Across the UK, zero-hours contracts are most prevalent in the hospitality and social care sectors.
Typically, an employee works fewer than 21 hours a week, with average pay of £236.