Manannán Mac Lir: Binevenagh ramblers tell of statue find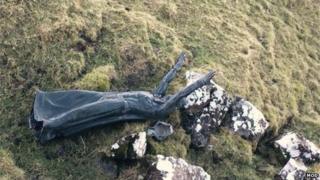 A rambler has described how he and friends discovered a 6ft sculpture of a Celtic sea god that was stolen from a mountain in January.
Manannán Mac Lir had been missing from Binevenagh mountain, near Limavady, County Londonderry, since 21 January.
The statue was installed last year and was a popular tourist attraction.
It was found on Saturday by members of Bannside rambling group, walking in the Binevenagh area, who then alerted soldiers on a training exercise.
The group's James Hamill said they were walking close to Gortmore viewpoint when the statue was spotted.
"Suddenly somebody up at the front spotted something and when we got there and looked down, I suppose about 20 feet below us, there was the statue lying on its back down amongst some rocks," he said.
"I went down to have a closer look at it and discovered that the back part of its head was off.
"But apart from that it seemed to be fairly well intact. Its arms were still outstretched as if it were reaching up asking for a hand up."
'Hard to spot'
Mr Hamill said the statue would not have been easy to see from a distance.
"It may have been carried down there and thrown over," he said.
"It was in among some rocks and was the same colour as the rocks, so I suppose it would have been hard to spot unless you were close to it."
After spotting the statue, the ramblers walked towards the viewpoint and spotted an Army Land Rover in the area for a Royal Irish Regiment training exercise.
"We went over to them and said what we had found," Mr Hamill said.
"So three of us then walked down with one of the Army officers to where the statue was. We showed him where it was and he took it from there."
Sgt Maj Wallace Mehaffey said the statue, which is made out of glass fibre and stainless steel, was found 300m from its original position and was badly damaged.
He said the base of it had been "ripped off its mount" and part of the head was detached.
"We were approached by a group of ramblers and they told us they had found what appeared to be the said statue, because it has fallen down the side of a rocky outcrop I would say some 50 to 70 metres, it is damaged to the back of the head," he added.