Ex-boxer Eamonn Magee sentenced to prison for assault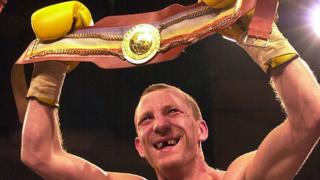 Former world boxing champion Eamonn Magee has been sentenced to four months in prison for beating a woman.
A judge told the ex-fighter who is 43, and from Eskdale Gardens, Belfast, that it was "a nasty attack" on a vulnerable woman.
The judge said it warranted a prison sentence. However, Magee was granted bail to appeal the conviction.
Belfast Magistrates Court was told that Magee dragged Louise Mullen to the ground by her hair.
He kicked and hit her.
During the trial, Ms Mullan said she had been subjected to a no-warning attack during a late-night drinking session at a friend's apartment in the Oldpark, north Belfast, in July last year.
However, Magee claimed she had subjected him to a barrage of up to 10 punches that he likened to legendary US middleweight Marvin Hagler.
"If I had hit that girl I would have knocked her out, and it would only be one punch," he said.
In court on Monday, his defence lawyer said Magee had acted in self defence and made a plea for leniency, given the boxer's continued involvement in the boxing world and his work with young fighters.
But district judge Peter King said Magee was entitled to no credit for any post-conviction remorse because he still protested his innocence.
"The description of how you say you had to defend yourself from assault from your victim strikes me as nonsensical," he said.
Magee was released on bail of £250, pending his appeal.
Magee's professional career spanned 33 fights and also included Commonwealth success.
He was the first boxer to knock down fellow ex-world champion Ricky Hatton, even though he went on to lose that bout on a split decision.