Farry defends European Social Fund application process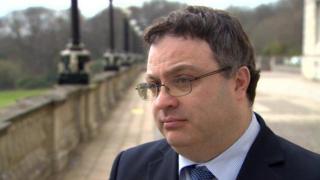 Employment and Learning Minister Stephen Farry has defended his handling of applications to a fund that helps people train for the workplace.
Last week, Stormont's Employment and Learning Committee said it was "appalled" at the process for awarding money from the European Social Fund.
It said many experienced groups had been ruled ineligible.
Dr Farry told the committee that the department had amended the process and created a "level playing field".
He said it was inevitable that some applicants would be disappointed as there were 1.8 times more applications than there was money available.
However, he said the process would be "rigorous, objective and fair".
A number of community organisations had warned of job losses and cuts to services.
The chair of the committee, Ulster Unionist MLA Robin Swann, asked the minister and departmental officials for a reassurance there would be no bias.
"Some organisations had been contacted to provide additional information where not every organisation was," he said.
Mr Farry said there were no grounds for any perception of bias.
"That question is as relevant as asking me whether I'm going to go out of this room and commit a crime in the next half hour," he said.
A departmental official said any suggestion of bias was "outrageous".