TV election debates: DUP says BBC Trust to consider party's appeal against exclusion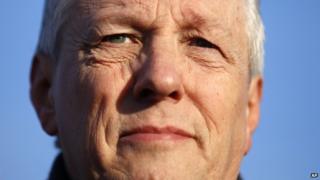 The DUP has said the BBC Trust has agreed to consider the party's appeal against its exclusion from the BBC's general election TV debate.
The party said the case was due to be heard on 4 March.
DUP leader Peter Robinson said it was "another welcome step in the battle to achieve fairness for Northern Ireland in the BBC's general election coverage".
In a statement, the BBC Trust said it had received an appeal from the DUP.
"We will be considering the BBC's election guidelines on Thursday 26 February, and are making arrangements so any appeal can be heard on Wednesday 4 March," the statement said.
Last month the BBC rejected the DUP's request to be included.
As a result, the DUP said it intended to seek a judicial review of the BBC's decision to exclude the party from the televised general election debates.
On Tuesday, Mr Robinson said: "With other regional parties, who have fewer seats and fewer votes than us included in the debates, the DUP is simply requesting fair treatment.
"Whilst the BBC's editorial standards committee will only meet to finalise its election guidelines on 26 February, the trust's letter indicates that our case would be heard on 4 March by the CAB (the complaints and appeals board).
"We stand by our complaint that the exclusion of the DUP from the televised debates which include other smaller parties is unlawful, irrational and in breach of the BBC's duties regarding impartiality."
The DUP had written to the BBC and ITV asking for an explanation as to why the party had not been invited to take part in the live televised election debates.
In his written reply to the DUP, Lord Hall is understood to have said the decision not to include them complied with the BBC's obligations of impartiality.
The BBC and ITV are currently planning to hold two debates involving the Conservatives, Labour, Liberal Democrats, UKIP, Plaid Cymru, the SNP and the Greens.
A third debate - hosted by Sky and Channel 4 - would feature a head-to-head between Mr Cameron and Labour leader Ed Miliband.