PSNI assistant chief constable Alistair Finlay to retire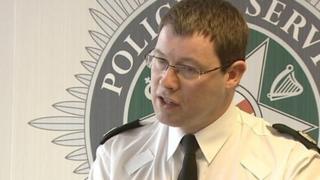 Assistant Chief Constable Alistair Finlay is to retire from the PSNI after 33 years in policing.
ACC Finlay, who is originally from Scotland, joined the PSNI in 2006.
In 2010, he was criticised by unionist and nationalist politicians after accusing them of not doing enough to reduce marching season tensions.
ACC Finlay was responsible for co-ordinating the huge policing operation for the G8 summit in July 2013.
He was appointed as interim deputy chief constable last year to fill in after Judith Gillespie left the force.
He indicated that he would not apply for the job on a full-time basis, as it was felt that any temporary appointee would have had an unfair advantage.
ACC Finlay began his career as a police officer in 1982.
On Tuesday, PSNI Chief Constable George Hamilton said: "On behalf of the PSNI's Service Executive Team I want to place on record our sincere appreciation for the huge contribution and dedication Alistair Finlay has made to policing in Northern Ireland.
"He has been with the PSNI since 2006 and during his time has held a number of highly challenging roles."
Chair of the policing board Stuart MacDonnell said: "ACC Finlay has made a significant contribution to policing in Northern Ireland and the board wishes him well for the future."