Heroin crackdown in Belfast's Botanic Gardens and Ormeau Park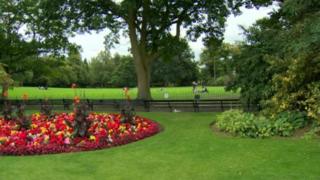 Police have been carrying out a major operation against gangs selling drugs in some of Belfast's best known parks.
The operation has been concentrated mainly in Ormeau Park and Botanic Gardens in the south of the city.
The PSNI first became aware of gangs selling heroin in the two parks last summer, mainly through increased reports of needle finds.
South Belfast is the policing area with the highest number of drug arrests and seizures in Northern Ireland.
There have been 27 arrests in connection with drugs offences in the area so far this month.
The BBC understands that dealers were selling drugs at several locations in the parks, including public toilets.
Ch Insp Robert Murdie said the operation involved both plain-clothed and uniformed officers, and was still ongoing.
"It's been very successful in dismantling and disrupting the organised crime gangs that are behind this," said the area commander for South Belfast.
"Seventeen people have been charged for the supply of class A drugs as well as money laundering."
Seizures
According to PSNI statistics covering the past two years, herbal cannabis has been the most seized drug in Northern Ireland, followed by cannabis resin, benzodiazepines - such as illicitly sold diazepam - and cocaine.
However, heroin was the drug being most widely sold in Belfast's parks, according to the PSNI.
Ch Insp Murdie said: "We've seen an increasing amount of heroin - it gives us most concern."
Over the past two years, South Belfast has been the policing area with the most drugs seizures in Northern Ireland:
452 seizures in the 12 months to January 2014
520 seizures in the 12 months to January 2015
290 arrests connected with drugs offences in the 12 months to January 2014
373 arrests in the 12 months to January 2015
In a related development, Belfast City Council has installed needles bins or 'sharps bins' at five public toilets in the area to enable injecting drug users to safely dispose of needles.
While it is illegal to possess and supply drugs in Northern Ireland, Ch Insp Murdie said the operation in Belfast parks was targeted at dealers.
"Our real concern around this operation has been the organised aspect of it, and the focus of our tactical crime unit has been on those people intent on supplying these dangers drugs in the city centre."
He said that while he was aware of "public rumour" around the involvement of foreign nationals in drug selling, there was "no specific gang of ethnic minority groups involved".
"It's right across the board and our own local, indigenous criminals are heavily involved," he said.
While the PSNI say the current operation has been successful, the BBC understands that there are concerns among people who work in addiction services that the dealers may merely have moved elsewhere in the city, and to some of the northern suburbs.
Ch Insp Murdie admitted that while street dealing was being tackled, work still had to be done to stop the traffickers importing drugs into Northern Ireland.
He said drugs came from across Europe and were brought in "particularly through Dublin" before heading onwards to Belfast.
"There are bigger drug dealers that we need to work with our colleagues in the Garda to tackle," he said.