Bank of Ireland announces £670m profit for 2014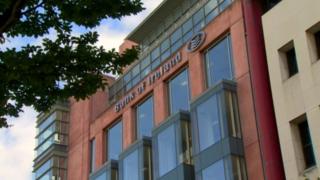 Bank of Ireland made a profit of 921m euro (£670m) in 2014 compared to a 564m euro (£410m) loss in 2013.
The performance included a big drop in the amount it had to set aside to cover bad loans.
The bank's retail UK division, which includes its Northern Ireland business, made an underlying profit of £103m.
The bank said its Northern Ireland business made "a modest profit". Bank of Ireland is the biggest of Ireland's domestic banks.
It is the only one that managed to avoid full nationalisation during the financial crisis. It operates across the island and has a joint venture with the Post Office in the UK.
The bank's chief executive, Richie Boucher, said that he was confident about the bank's prospects, pointing to the favourable prospects of the Irish and UK economies.
"We have our strong retail and commercial franchises in these markets and we have resilient and professional people, who are motivated and focused and have a proven track record of delivery," Mr Boucher said.