Tom Elliott calls for ban on naming facilities after people convicted of terror offences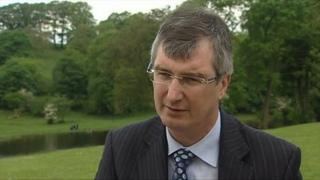 Ulster Unionist MLA Tom Elliott has proposed legislation to prevent public facilities being named after people convicted of terror offences.
He launched a private member's bill on Monday.
Mr Ellliott's bill also includes anyone convicted of membership of a proscribed organisation.
He said the recent furore over the naming of a children's play park in Newry, County Down, meant the legislation was needed.
Councillors in Newry and Mourne recently voted to retain the name of the play park named after an IRA hunger striker.
Raymond McCreesh, from Camlough in south Armagh, was one of 10 IRA prisoners who died in the hunger strike in the Maze Prison in 1981.
His convictions included attempted murder, conspiracy to murder, possession of firearms with intent to endanger life and IRA membership.
Councillors voted in February to retain the name. On Monday, Sinn Féin councillors blocked unionist efforts to hold a fresh debate on reconsidering the decision.
"For years Sinn Féin and other groups have been glorifying terrorists who were responsible for some of the most brutal murders in Northern Ireland," Mr Elliott said.
"Such actions only serve to polarise and divide communities as well as having a hugely negative effect on the victims and the families of victims, who were created by those who are being glorified.
"There is currently no legislation in place to restrict this happening and the recent furore which has centred on the naming of a children's play park in Newry after the convicted IRA terrorist Raymond McCreesh is concrete proof that such legislation is required.
Mr Elliott said legislation would introduce "clarity" and "certainty" for local councils, government departments and agencies, and create "uniformity" across Northern Ireland.
"Failure to introduce legislation will simply prolong the current situation where naming decisions can negatively affect community relations and risk further division along political and religious lines," he said.
SDLP leader Alasdair McDonnell said: "We would look positively at it if the bill was comprehensive enough, covering all victims and all aspects of terrorism, state terrorism, paramilitary terrorism, dissident and provisional and loyalist terrorism.
"The victims and survivors have suffered and we are there to protect them - we feel that they have suffered enough."
The consultation process will run for six weeks until Monday 13 April.