Pensioner waits almost six hour for ambulance to arrive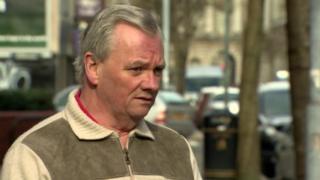 A Belfast community worker has said it took over five hours to get an ambulance for a pensioner who was stranded in his house for four days after being injured in a fall.
Thomas Wilson said the ambulance was called for his friend just after 20:00 GMT on Friday but did not arrive until 01:30 GMT on Saturday.
He said the ambulance service should have prioritised the case.
The NI Ambulance Service apologised for the delay.
"What has gone through my mind and gone through the neighbours' minds was what would have happened if they had found him and he was dead," Mr Wilson told the BBC's Sunday News programme.
"That's what was coming through our minds. If we had left that man on Friday night and went into our beds, he might not have been living the next morning."
John McPoland from the Northern Ireland Ambulance Service said that when the call from the patient came in, it was prioritised as a category C call, but was later upgraded to category A after several telephone calls.
"The wait of five and a half hours for an ambulance to arrive is not something that we would want and we of course apologise to the patient and to anybody else who was affected by the incident that evening," he said.
"But the fact is throughout Friday and into Friday night we were exceptionally busy with category A calls and category B calls and whilst a patient is in category C and their condition does not deteriorate, we have to respond to category A and B calls as a priority."