NI budget: DRD 'cannot afford traffic light repairs'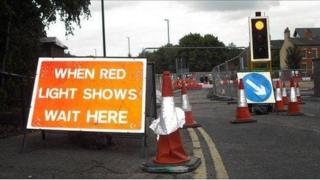 The Department for Regional Development does not have enough money to fund basic services like traffic light repairs, its minister has warned.
Danny Kennedy said his budget for next year meant he had to save £60m, but this could not be delivered "without an impact on core services".
He said it could affect things like the repair of potholes and traffic lights.
Grass cutting at road junctions might also be affected.
Mr Kennedy said he had no choice but to move money from roads to NI Water for it to meet its basic legal obligations.
'Shortfall'
"NI Water may still not be able to meet all the public's expectations of it with its remaining shortfall in its budget which is a result of a massive rates revaluation," he said.
The minister said he had sought to protect NI Water and Translink from "the worst impact of the reduced budget".
He said Translink, Northern Ireland's government-owned public transport company, would record significant losses this year and next year as a result of reduced government funding.
"In the draft budget Translink faced a £15m cut," he said.
"I have invested additional monies received in the final budget to safeguard the existence of town services.
"However, even with that there will be the need for Translink to make efficiencies in administration and overhead costs, to reduce the frequency of some services and reduce its workforce accordingly.
"Translink will be consulting locally on the detail of this."
Mr Kennedy said Transport NI, which looks after the roads network, would face the greatest impact to its budget next year.
"As it stands my budget does not provide for sufficient service provision in areas like repair of potholes and traffic lights and other measures such as gully emptying and grass cutting at junctions."
"This is not the level of service I would want to provide to the public."
He said other areas that would be affected by reduced funding included community and rural transport.