Big Lunch in east Belfast aims to break down barriers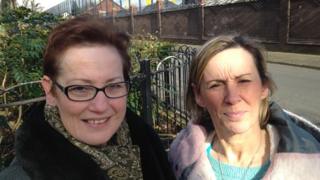 Women living on either side of a notorious Belfast interface are planning a summer party to try to rebuild relations between Catholics and Protestants.
A so-called peace wall divides the Short Strand and lower Newtownards Road.
Families living only a short distance apart rarely socialise together.
However, a lunchtime party is being planned during the summer to try to break down the social and political barriers.
Among the organisers of the 'Big Lunch' are two grandmothers from either side of the east Belfast interface, Jacqui O'Donnell and Jackie Upton.
Together, they hope they can improve community relations in a part of Belfast scarred by violence and sectarianism.
Jackie Upton, from the Lower Newtownards Road, said: "There are ongoing issues associated with this interface, with different homes being attacked in both areas. It's frightening for people.
"The Big Lunch is going to be social and it's going to be fun.
"A lot of people's efforts concentrate on difficult issues but this will be a way to come together more informally - it's about meeting people and chatting, there will be no stress, and because of that it will help break down barriers."
Jacqui O'Donnell, from the Short Strand, said: "Honestly I think doing something like this can be a great help for this area.
"I'm a great believer in cross-community work, and I believe that the younger kids are when they get involved, the greater the benefits, because you can get them playing and growing up together."
The Big Lunch is a UK wide initiative, aimed at bringing neighbours closer together. Based on an idea from the Eden Project, it has been funded by the Big Lottery Fund.
Grainne McCloskey from the Eden Project said: "The idea is for neighbours to get out and enjoy some food, fun and friendship - it's that simple."
No venue has yet been chosen for the east Belfast lunch, but it's being planned for the first weekend in June.
If it is successful, it may become an annual event.