Derek Brockwell: Prisoner transferred to Frankland Prison, England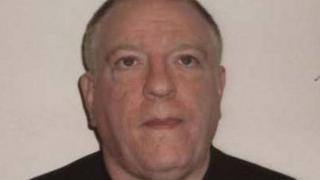 A prisoner who fled across the border from the Republic of Ireland into Northern Ireland after stabbing two prison officers, has been transferred to a jail in England.
Derek Brockwell, from Glasgow, escaped from custody at Tallaght Hospital in Dublin on 17 February.
He was arrested at a pub in Belfast the next night.
He had been receiving treatment in a Belfast hospital for a stab wound he inflicted on himself during his arrest.
Supt Paula Hillman said: "PSNI can confirm that Derek Brockwell, who was unlawfully at large from the Republic of Ireland, has been released from hospital and transferred to HMP Frankland, England."
The 53-year-old escapee had been serving a seven-year sentence in Portlaoise prison after being convicted of armed robbery in Dublin in 2013.
He was brought to Tallaght Hospital from Portlaoise Prison for treatment, but once there he attacked two prison officers escorting him.
One was stabbed in the stomach and one in the hand and back.
He had arrived in Dublin the previous year, after absconding from a prison in Lancashire while he was on day release.
He was serving a life sentence in the Lancashire prison, for a series of armed robberies in London.
On Tuesday, three people were arrested in the Republic of Ireland in connection with his escape.
The three people being questioned are an inmate at Portlaoise Prison, County Laois, and a couple in their 60s from Ashbourne, County Meath.
Irish police said they were released on Tuesday evening and a file is being prepared for the Director of Public Prosecutions.