Stormont to turn green and orange for St Patrick's Day and 12 July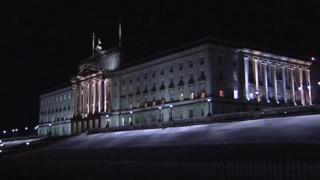 Stormont, the home of Northern Ireland's devolved government, is to "go green" to mark St Patrick's Day and is set to turn orange on 12 July.
The building will be illuminated by coloured lights to mark four annual events, following political agreement.
Stormont will turn red, the colour of poppies, to mark Remembrance Day in November.
The illuminations will begin in four days' time, when it will appear purple to mark International Women's Day.
'Positive message'
The move was announced by the Assembly Commission.
The issue was discussed by MLAs because a number of famous landmarks around the world already use green illuminations to mark St Patrick's Day on 17 March.
They include the pyramids in Egypt, Italy's leaning tower of Pisa, the London Eye, Brazil's Christ the Redeemer statue, Belfast City Hall and the fountain at the White House.
Assembly Speaker and chair of the commission, Mitchel McLaughlin, said: "As the home of the assembly, Parliament Buildings should set a lead in demonstrating respect to all sections of our community.
"I therefore commend the very constructive role Assembly Commission members have played in reaching consensus on this list of days on which the building will be lit containing days will be of more or less significance to every party.
"The fact that on these days 'the house on the hill' will be seen lit up from miles around will I hope send a positive message of the agreement that is possible and that deserves credit."
You can hear more about this story on BBC Radio Ulster's Talkback programme from 12:00 GMT.