Belfast student accommodation to be completed by 2016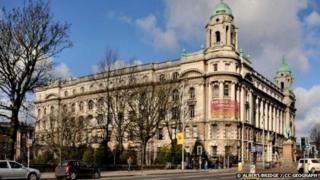 Planning permission has been granted for 413-bedroom student accommodation in an iconic Belfast city centre building.
The private accommodation will be in the former Tech building, now known as John Bell House, in College Square East.
Planning permission was granted to joint venture partners, Watkin Jones & Sons and Lacuna Developments.
Completion is planned for the start of the academic year in September 2016.
Newry-based construction firm O'Hare and McGovern won the tender for the £16m redevelopment project.
Managing director of of O'Hare and McGovern, Eamon O'Hare, said: "This is a magnificent landmark building which is going to be completely revitalised to provide upmarket student accommodation. It's an exciting project which will be great for Belfast."
The accommodation will be made up of 292 bedrooms and 121 studios. The site will also house a reception suite as well as communal indoor and outdoor amenity areas.