Police Service of Northern Ireland 'will have 200 fewer officers'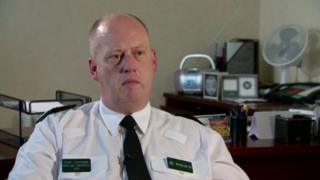 PSNI chief constable George Hamilton has said he will have 200 fewer officers than he needs next year.
He said this was due to the "high numbers of officers retiring", and "very limited scope" for recruitment.
However, he said "criminals should not rest easy".
Mr Hamilton told the policing board that the size of the service by April 2016 will be down to 6,773.
He said the impact of cuts in police officer and staff numbers would be exacerbated by a significant reduction in overtime.
"Projected core police overtime budgets next year have been reduced by £6.2m - this equates to over 300,000 hours less of policing," he added.
The chief constable was challenged about the number of Catholics and women in the PSNI.
He said he was committed to getting as representative a workforce as possible.
It emerged at the meeting that the recruitment of women police officers in Northern Ireland is suffering because too many women fail the fitness test. Police say only around 20% of women applicants pass.
The policing board is to ask the justice minister David Ford to commission an independent review of the PSNI's disclosure process in respect of inquests.
Meanwhile, Mr Hamilton said that on average, every day, the PSNI makes 92 arrests, prepares 125 prosecution files and seizes £27,000 of drugs.
He said that on average, every day, it issues 76 motoring fixed penalty notices or discretionary disposals and responds to 26 reports of road traffic collisions, two of which involve death or serious injury.