RNLI: North coast cliff warning after 'dramatic' coastal erosion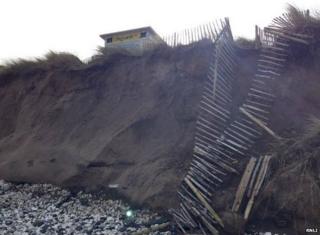 A public safety warning has been issued because severe weather along Northern Ireland's north coast has created unstable sand cliffs, some 18ft high.
The Royal National Lifeboat Institution (RNLI) said winter storms have "dramatically changed the profile" of some popular beaches in the area.
The rescue charity urged beach visitors to "stay away from cliff edges".
It said Whiterocks, Portrush East and Portstewart beaches were significantly affected by coastal erosion.
'Sheer sand cliffs'
RNLI lifeguard manager Mike Grocott said winter storms had "taken their toll on the make-up of some of the beaches this year".
He added that "many people returning to these favourite spots may be surprised at how different everything looks".
'Rip currents'
"This includes significant erosion of the sand dunes where gentle slopes have washed away leaving sheer sand cliffs, some of which are up to 18ft high."
"Access points have been altered and on some beaches the shifting sand has left deep channels that in turn create strong rip currents," Mr Grocott added.
The charity said the best advice to beach visitors was to "stay away from the sand cliff edges and bases".