Karen Walsh: Appeal over pensioner murder 'has no merit'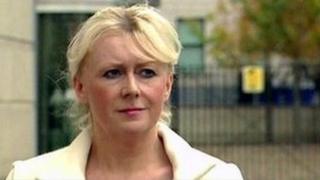 A woman's appeal against her conviction for the murder of a pensioner has "absolutely no merit", the Court of Appeal has been told.
Karen Walsh was jailed in 2011 for killing Maire Rankin at her home in Newry, County Down, in 2008.
The 48-year-old is currently serving a minimum 20-year prison sentence for the brutal attack.
Lawyers for the prosecution told the court they was still satisfied that "the verdict was safe".
Mrs Rankin, who was 81, suffered up to 15 broken ribs and had been beaten with a crucifix given to her as a wedding gift.
During her trial, the prosecution claimed Walsh arrived at Mrs Rankin's home already drunk and with a bottle of vodka.
It was alleged that the mother-of-one then flew into a rage and attacked the pensioner after being chastised about her drinking and told to go home to her young son.
'Entirely innocent'
On Thursday, Walsh's lawyers claimed there was a lack of proper guidance on the case being made by the prosecution.
They said the trial judge had failed to properly direct the jury about the time of death, differences in DNA samples and issues around Walsh's level of intoxication.
A defence barrister said: "She is entirely innocent of touching Mrs Rankin in any way.
"The failure on the part of the court to direct on the issue of intention, both in relation to intoxication and/or on the issue of the time and circumstances (of death) renders the conviction unsafe."
A further ground of appeal centred on how a series of lies attributed to Walsh were handled at trial.
Her legal team claimed the trial judge should have given a clearer direction to the jury about what was described as "four separate lies" attributed to the defendant.
The defence claimed the prosecution had told the jury to use the lies to support a prosecution in "a circumstantial case".
However, a prosecution barrister said that there was "absolutely no merit in any of the arguments presented by the appellant".
He told the court: "The evidence was very compelling and no matter what conclusion might be drawn about the various arguments, standing back and looking at all the evidence your lordships will still be satisfied the verdict is safe."
The appeal continues.