Brimstone report: DSD minister refuses to find way forward says committee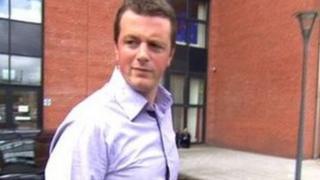 A Stormont committee investigating the behaviour of a DUP adviser has said the social development minister has refused to find a way forward on the issue.
It asked Mervyn Storey to agree to let a High Court judge decide if he should hand over a full copy of a report into the conduct of Stephen Brimstone.
However, Mr Storey told members of the committee that he could not agree to the proposal.
Last month, the minister gave the committee a copy of the report.
Parts of the report, however, which found that a formal disciplinary investigation should begin, were blanked out or redacted.
After meeting in private to discuss the impasse on Thursday afternoon, the committee chair Alex Maskey said that if Mr Storey refused to publish the full report, he was holding the assembly in contempt.
Mr Maskey said it had been a "long and deeply frustrating process".
He said committee members were "understandably angry" at the minister's refusal to even consider releasing the un-redacted report to an independent arbitrator for consideration.
However, Mr Maskey said committee members were content that they had enough evidence to draw their own conclusions.
The committee said that based on the extensive written and oral evidence it had already received, it has now decided to move quickly to publish its own report into the affair.
Previously, Mr Maskey had threatened to take the minister to court if he refused to release the full report.
The committee has been investigating allegations of political interference in the Housing Executive.
They were raised in a BBC Spotlight programme in 2013.
It is claimed Mr Brimstone ordered a DUP councillor to change the way she intended to vote at a Housing Executive board meeting.