DUP weigh up their options after BBC TV debate decision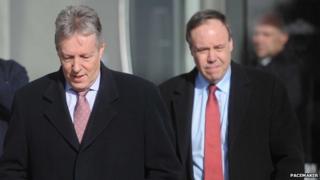 So the BBC Trust has backed the Corporation's editors over their decision not to invite the DUP on to its planned seven party UK election debate.
The trust, which is the oversight body for the BBC, found that the management's thinking was not unreasonable on a number of fronts.
In its ruling, the BBC Trust "accepted that it was reasonable for the BBC Executive to take the view that voters in Northern Ireland are choosing between a substantially different range of parties" from their counterparts elsewhere in the UK.
The trust accepted that the "SNP, Plaid Cymru and the DUP were comparable because none of these parties field candidates outside their particular nation", but thought the Corporation was "reasonably entitled to take the view that they were not comparable, on the basis that the SNP and Plaid Cymru compete directly for votes with the larger parties of Great Britain, whereas the DUP and the other NI parties do not".
The trust acknowledged the presence of UKIP and the Northern Ireland Conservatives in the NI election battle, but noted what it called "the limited electoral support for UK-wide parties in Northern Ireland".
The trust also said it was open for the BBC to decide "it would not be possible to invite one of the five larger NI parties to participate without inviting them all given the BBC's duty to do all it can to ensure that controversial subjects are treated with due accuracy and impartiality".
The question now is whether the DUP will take its battle to court.
It's notable that Nigel Dodds' initial statement of response didn't mention his party's threatened legal action.
What senior DUP figures are mulling over will be whether it's worth handing over any money to London based barristers at this stage, when it's far from certain whether the planned debates will take place.
The DUP will probably only clarify their intentions once they have digested the broadcasters' response to David Cameron's ultimatum.