Civil Service voluntary redundancy: 3,200 'express interest'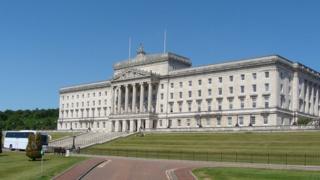 More than 3,200 civil servants in Northern Ireland have expressed interest in the new voluntary redundancy scheme, First Minister Peter Robinson has said.
The scheme opened on Monday morning and applications close on 27 March.
Around 27,000 people are civil servants for Stormont departments.
The aim is to lose the equivalent of 2,400 full-time civil service posts, saving around £90m from the civil service's annual pay bill.
The civil service scheme was one of the measures agreed as part of the Stormont House talks.
It is the first to open, but will be followed by others in areas like health and education, as the Northern Ireland Executive seeks to cut 20,000 public sector jobs.
Those who leave under the scheme will get one month's pay per year of service up to a maximum of 21 months.
The first £30,000 of any compensation will be tax free.
It is expected that the average compensation paid to civil servants could be about £48,000 to £50,000.
The mean salary for a civil servant in Northern Ireland is currently £28,500.
Staff over the pension age, which is normally 60, will be limited to compensation that is equivalent to six months' pay.
A finance official said applications for the scheme will be judged on a value-for-money basis, meaning that civil servants with shorter careers are likely to be let go before those whose compensation packages are more expensive.
Staff who want to take advantage of the scheme should be told if their application is successful in June.
The first group of staff is expected to leave in September.