Banbridge once a month bin trial set to end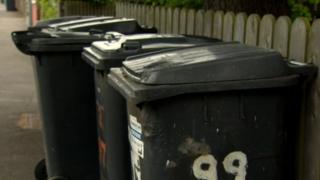 A trial that cut the number of household black bin collections from once a fortnight to once a month is to end on 31 March.
The Banbridge District Council trial began in January 2014 on two routes, but was later extended.
The council is being absorbed into the new Armagh Banbridge Craigavon super council at the start of April.
Shadow councillors have been told that though reaction to the trial was mostly positive, it will come to an end then.
This is due to the fact that the scheme was communicated to householders as a trial only and also because the trial bin rota is significantly different from that across the rest of the new super council area.
The council said it would "bank the trial findings for further consideration as part of a much wider overall review of waste management across the new Armagh Banbridge Craigavon Council area in due course".
Under the scheme, brown and green recycling bins were still collected every two weeks, but black bins, for non-recyclable waste, were only emptied every four weeks.
The council said the aim of the trial was to reduce the amount of non-recyclable waste, placed in black bins, going to landfill
At a meeting on Wednesday night, councillors were told the trial had secured significant support among residents, with 92% now saying that they always or usually recycle compared to 62% before the trial.
"Banbridge District Council has consistently led the way as the highest recycling council in Northern Ireland, with the associated easing of the cost burden of waste processing for our ratepayers," the chair of Banbridge Council, Marie Hamilton said.
"Each and every one of the dedicated team involved with this trial had gone way above and beyond the call of duty to make it such an overwhelming success".