Booktrust: NI funding for free children's books is cut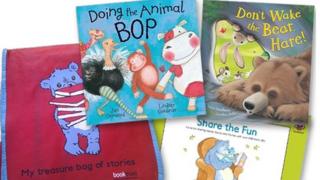 Funding has been cut from a charity that distributes free books for pre-school children in Northern Ireland, to encourage families to read together.
Booktrust distributed thousands of gift packs for children each year, with the help of a £250,000 grant from Stormont.
However, this grant has now been abolished due to budget cuts at the Department of Education.
The charity said Northern Ireland would miss out on free book packs that remain available to other children in the UK.
'Cycle of poverty'
Booktrust's chief executive, Viv Bird, said the funding cut was "a great pity".
"Encouraging parents to read with their children has been shown to be a first step towards breaking the cycle of poverty," she said.
Last year, Booktrust used the Stormont grant to distribute 50,000 gift packs to homes in Northern Ireland.
They included picture books for babies and pre-school children, while three and four-year-olds also received pencils and drawing pads in their book packs.
Booktrust said it was told its funding was being removed after Education Minister John O'Dowd presented his budget to the Northern Ireland Assembly's Education Committee this week.
Its staff said they would be "working around the clock" in a bid to secure alternative funding from other sources.
However, the charity has confirmed to the BBC that as things stand it will not be distributing any free books in Northern Ireland this year.
A spokeswoman for the Department of Education has confirmed to the BBC that Booktrust was among a number of organisation whose funding has been removed due to budget cuts.