Peter Robinson rules DUP out of Westminster coalition government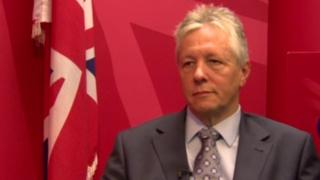 The Democratic Unionist Party has ruled itself out of a possible Westminster coalition government if there is no clear winner of the general election.
DUP leader Peter Robinson said his party could "hold the balance of power" if there is a hung parliament in May.
However, he said his MPs would not be "seeking any cabinet seats or any narrow party political advantage".
"The DUP will use its influence to further the best interests of Northern Ireland and of the union," he added.
The DUP is currently the fourth largest party in the House of Commons.
No majority
Mr Robinson, who is also the first minister of Northern Ireland, made his comments at a business breakfast event organised by his party in east Belfast.
"The opinion polls demonstrate that neither the Labour Party nor the Conservative Party is likely to have an overall majority to form a government, he said.
"All serious commentators are predicting a hung parliament where DUP MPs could hold the balance of power."
The DUP leader added: "Our MPs will not be part of any government coalition. We will not be seeking any cabinet seats or any narrow party political advantage."
'National stage'
He said that unlike other parties, the DUP was "not ideologically tied to any one of the major parties at Westminster" and could negotiate with either the Conservatives or Labour.
Mr Robinson said his party would "ensure that Northern Ireland's voice is heard on a national stage".
The DUP is considering a legal challenge to being omitted from planned TV debates featuring seven UK party leaders, including four who have fewer MPs than the DUP.