Seamus Morgan refused bail as more MI5 recordings of Newry 'CIRA' meetings emerge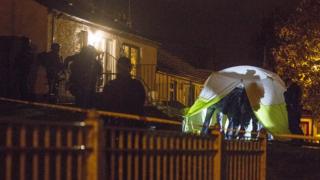 Suspected paramilitaries were secretly recorded planning gun and bomb attacks as well as plans to smuggle a weapon inside bread, a court has heard.
The details emerged as Seamus Morgan, who is accused of attending an alleged Continuity IRA meeting in Newry, County Down, appeared before the High Court.
He was one of 10 men charged as the result of a MI5 surveillance operation at a house in Ardcarn Park in November.
Mr Morgan, of Barcroft Park, Newry, had his application for bail refused.
The 59-year-old is accused of belonging to a proscribed organisation.
'Shooting targets'
The property at Ardcarn Park was raided by police on 10 November, after MI5 had bugged it for three months.
The High Court in Belfast was told that alleged members of the dissident republican group were recorded in the house as they discussed shooting targets and methods of constructing explosives.
At previous court hearings it was claimed the tapes had uncovered dissident plots to kill judges, police officers and attacks on Policing Board meetings.
A total of nine meetings were recorded and Mr Morgan is alleged to have been at three of the meetings in October and November.
Preliminary results from voice analysis shows that he spoke during the covert recordings, a prosecution lawyer told the court.
'Bomb-making'
At the first of them, conversations centred on the inability to do "jobs" without weapons, punishment attacks and identifying targets for shootings, the court heard.
Those present also allegedly discussed dealing with local youths causing annoyance in the name of the Continuity IRA, with a statement to be issued warning anyone doing so would be "severely punished".
The prosecutor claimed Mr Morgan was then at a second meeting that discussed dealing with anti-social behaviour, having household items for bomb-making and repairing guns.
She added that the men also talked about transporting a small weapon in a loaf of bread and getting items to make improvised explosive devices (IEDs).
'Pseudo-military organisation'
At the final meeting, discussions focused on financing, "taking on a 15-year-old" and other punishment attacks, it was claimed.
Defence counsel said that if Mr Morgan had been involved in the conversations he would be facing more than just a membership charge.
However, the judge said the allegations related to a "pseudo-military organisation" whose aims went against "the views of virtually everyone living on this island".
He citing the risk of further offences as he refused bail.