Sinn Féin could be biggest party in Ireland - Martin McGuinness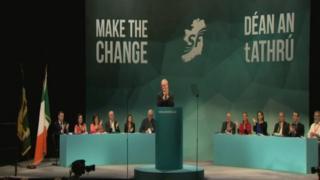 The deputy first minister has said he wants his party to be the biggest in Ireland, north and south of the border.
Martin McGuinness was speaking at the opening of the Sinn Féin Ard Fheis on Friday night.
He said he believed that after the forthcoming elections, his party could be the largest on the island.
Speaking at the Millennium Forum in Londonderry, Mr McGuinness described the party's long-term goals as "achievable".
"Much has been said already about the prospects of Sinn Féin emerging as the biggest party following the Dáil election," he said.
"That is certainly our goal. But it is also our goal to become the biggest party in the north at the 2016 assembly elections.
"Both those goals are achievable and the symbolism of doing so on the 100th anniversary of the Easter Rising would be massive."
The deputy first minister also defended the Stormont House Agreement and said his party did not do austerity, describing the welfare protections built into the deal as a "red line issue" for Sinn Féin.